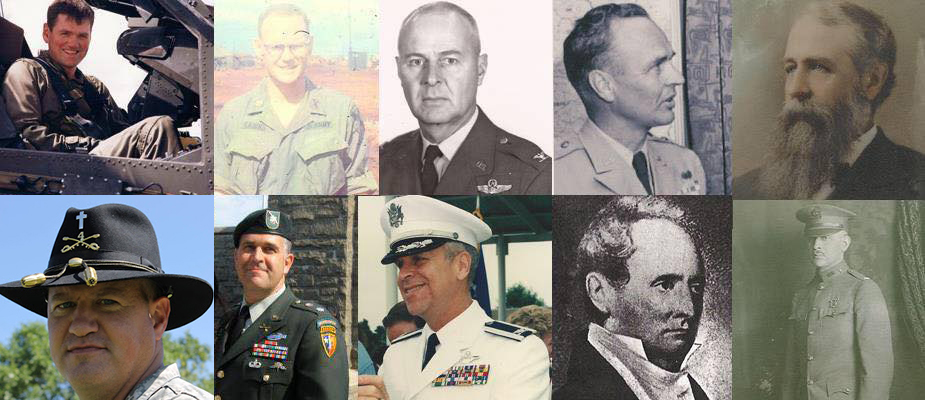 CH (CPT) R. Chris Cairns grew up in a military family, and as an Army brat lived at Fort Leavenworth, KS; Hampton, VA; Lima, Peru; West Point, NY; and Fort Benning, GA before matriculating to West Point in 1991, leaving after one year due to eye surgery at Walter Reed.  His father had retired to his second career as the Director of Physical Education at Virginia Military Institute, so Chris recovered in Lexington, VA. The surgery resulted from a soccer injury sustained while scoring a goal against and colliding with the goalkeeper for Princeton.  This was neither the first time nor the last that Chris got a concussion from colliding with a goalkeeper! His father, uncle, cousin, grandfather, and great uncle were all graduates of West Point, and Chris was born there and lived there twice during his father's military career, so he considers West Point his highland home on the Hudson.  Chris transferred to the University of the South at Sewanee after his plebe year, primarily due to that surgery and recovery.

Chris finished his undergraduate degree in Developing World Studies with a concentration in Latin America at Sewanee, the Episcopal university founded by a West Point graduate and Episcopal Bishop, the Rt. Rev. Leonidas Polk. Chris' great grandfather's cousin (genealogical mouthful), J. Bayard Snowden, had endowed the Forestry Chair at the University of the South. Chris later pursued a call to Holy Orders, finishing Master of Divinity studies at Virginia Theological Seminary, Bishop Polk's other alma mater– feeling like he had been unwittingly following his antecedents and Polk around.  Polk was a Second Great Awakening 1820s convert of the ministry of West Point Chaplain and future Episcopal Bishop, the Rt. Rev. Charles McIlvaine, one of Chris' heroes.
Chris played soccer for Sewanee and met his wife of 25 years there, the former Elizabeth Hesselink of Lookout Mountain, GA.
For all 25 years of marriage, they have been in ministry, pursuing the call of God wherever it has led, and Chris has been involved with some extraordinary movements of God's Spirit as a result, such as the Cherokee Prayer Initiative in Chattanooga, a prayer movement that led to repentance for the Cherokee Removal and the Trail of Tears.
He has served on the staff of several national faith-based not-for-profits, including Young Life, the Salvation Army, and Alpha USA, and he has founded several local not-for-profits, particularly dedicated to the immigrant Latin American community.  In addition he has helped start four churches and a college ministry to the University of Tennessee, all of which continue to thrive because of the fantastic people who responded to the vision and the call to get involved. He has developed mercy ministry projects in Latin America, Africa, and Asia, including a housing development for the poor in Mexico, a post-traumatic counseling center for family members of victims of the genocide in Rwanda, and resettlement for Chinese orphans from institutions into Chinese families.
Chris also had the privilege of assisting then Bishop of London, the Rt. Rev. Richard Chartres, in saving a historic church building for use by St. Paul's Theological Centre and St. Mellitus College.  He gathered hundreds of thousands of dollars worth of books for an Anglican Studies library for the Evangelical Theological Faculty in Leuven, Belgium.  Chris assisted in the process of helping the British Library preserve a portion of Archbishop Thomas Cranmer's library from the 16th Century through fundraising.  He has served on the board of an HBCU. As "Father" Chris, he served as a founding delegate to the new Anglican Province, the Anglican Church in North America, and served as a Network Leader for the Anglican Mission in America before serving as the National Director of Alpha for the Military prior to becoming a US Army Chaplain at age 40.
At the suggestion of his classmates from the West Point Class of 1995, Chris came on Army Active Duty, becoming a part of 105 years of unbroken Active Duty service among the descendants of his great grandfather, LTC Douglas W. Cairns, a career Army doctor who had been with Pershing on the Pancho Villa expedition. Chris received a direct commission as a Chaplain in September of 2013 and reported to his first duty station, Fort Riley, KS: from which his great grandfather Dr. Cairns had retired in 1942; where his great uncle, MG Bogardus S. Cairns had trained in Advanced Equitation before WWII; and from whence his brother CPT Craig Cairns, an Apache pilot, deployed in 1991 to Iraq. As a part of the Big Red One, Chris served as the Squadron Chaplain for the 1st Squadron, 4th Cavalry Regiment, the oldest Cavalry unit in the US Army, in addition to serving as the Battalion Chaplain for the 3rd Battalion, 66th Armored Regiment, the oldest Armor unit in the US Army.
As a part of the famed Quarterhorse Squadron, Chris prepared a critical Religious Area of Operations summary in advance of the 1-4 Cavalry's deployment to train a Nigerian Battalion to fight Boko Haram, later serving as a key panelist in a worldwide Nigeria TTX facilitated by Fort Leavenworth's Office of Foreign Military Studies.  1-4 CAV's panel was recognized by AFRICOM's J5 for instrumental contributions aiding in preparations for strategic transitions in security arrangements on the continent of Africa.  In addition, preparations were made for a mission to train Libyan militias at a NATO base in Hungary, with Chris producing Religious Area Analysis for Operations in Libya which never received the green light.  But the Quarterhorse Squadron was prepared had the "go" button been pressed.

Following the ARSTRUC process and the shutting down of 4th Brigade at the 1ID, CH Cairns transitioned to 3-66 AR in 1st Brigade, assisting the Battalion Commander and Battalion Command Sergeant Major in standing up a brand new formation under the historic colors of the Army's oldest Armor unit, contributing a great deal to the success of the mission, creating a cohesive unit with pride in their history and esprit de corps, a unit which defeated Blackhorse in a rotation to NTC after only nine months of existence.  Chris initiated a Battalion History Project to recover the history of this decorated unit, which, having stood up in different places, had lost all of its historic colors and artifacts. Chris was awarded a budget of over $13,000 by the BDE to create a Battalion history museum at Headquarters to digitally represent–through historic pictures–the 100 years of contributions of the 66th AR to the defense of the Nation. While in Korea, he reasserted the lost historic connections of the 66th to the 6th Tank Battalion in the Korean War, which was news to the then 2nd Infantry Division Commander!  Chris had deployed to Korea as a part of the Rotational Brigade, where he served as the senior pastor of West Casey Chapel at Camp Casey.  He especially enjoyed recreating pictures at historic sites where his grandfather had stood as the U.N. representative of the Air Force to the final Armistice talks in 1953.
Following deployment to Korea, Chris served as the Command Chaplain and a Military History Instructor at the US Army Warrant Officer Career College at Fort Rucker, Alabama.  While at Fort Rucker, Chris assembled accoutrements from the extended family to establish an historical collection at the entrance to Cairns Army Airfield, named for MG Bogardus S. Cairns, his great uncle, who was the key developer of the Armed helicopter and the first to apply cavalry doctrine to Army Aviation, facts that had been posthumously forgotten.    All three children of MG Cairns were present for the ribbon cutting ceremony to cut the ribbon with historic sabers from the family collection.  You cannot be around Chris for very long without discovering that he enjoys very much to recover and to restore history.


CH Cairns with cousins Scott Cairns, Patty Hourin, and COL (USAF Ret.) Doug Cairns, the children of MG Bogardus S. Cairns, at the ribbon cutting of the historical collection honoring their father at his namesake, Cairns Army Airfield at Fort Rucker, June 2018.  Over CH Cairns' shoulder is the Army blues coat that his father, LTC (Ret.) Robert Bogardus Cairns, was given by MG Cairns' widow, their mother.  After wearing them throughout his career, LTC Cairns gave them to CH Cairns to wear.  After wearing them proudly at special occasions, CH Cairns and his son Will wrestled it onto the mannequin in the historical collection, along with MG Cairns' cadet uniform displayed in another case.


Chris feels absolutely privileged to have been serving with 3-66 AR, the 1ID, and then Warrant Officer Cohort during each of their centennial celebrations.

Chris is a graduate of the University of the South, holds a Master of Divinity degree from the Virginia Theological Seminary, and is pursuing a PhD, having done pre-PhD studies at the Evangelical Theological Faculty in Leuven, Belgium before entering the Army.  The Army has put a hold on those efforts, but he looks forward to continuing them at a stateside University.  He is a recipient of three Army Commendation Medals, two Army Achievement Medals, the National Defense Service Medal with Oak Leaf Cluster, the Global War on Terror Service Medal, the Korea Defense Service Medal, the Army Service Medal, and the Army Overseas Service Medal.
Chris is currently serving as the Deputy Brigade Chaplain for the 2nd US Army Recruiting Brigade, with 2000 Soldiers, 1000 DOD civilians, as well as their families, in his charge.  These personnel are dispersed throughout the southeastern U.S., Puerto Rico, and the U.S. Virgin Islands.

He has most recently taught military history to cadets at Alabama A&M, an HBCU.  He participated in the previous Army Secretary, Ryan McCarthy's rollout of a new Department of the Army project to partner with Historically Black Colleges and Universities to improve the diversity of the Officer Corps, a subject about which Chris is very passionate.
He is stationed at Redstone Arsenal, Alabama with Elizabeth and children Anne Elise (17), Will (15), and James (12), residing in Madison, Alabama, a suburb of Huntsville.  Elizabeth teaches high school English at Bob Jones High School.  CH Cairns also serves as the Assistant Rector of St. Andrews Anglican Church in Madison, in addition to serving in a volunteer capacity as the National Chaplain of the US Army Brotherhood of Tankers as well as the Chaplain for the Annual Reunion of the Veterans of the 15th Army Air Force , a WWII Veterans organization linked to his grandfather's service as the Commander of the 485th Bomb Group (B-24 Heavy) in Italy in WWII.
During their early years of marriage in Chattanooga, TN, Chris enjoyed coaching soccer on the side, serving as an Assistant Coach at the Baylor School and Red Bank High School, as well as Head Coach of Boys and Girls Soccer at the Chattanooga School for the Arts and Sciences.  In addition, he coached select soccer teams from the U-12 to U-19 levels.  He also founded the chattanoogan.com, among the first online only local newspapers in the country, with veteran reporter and Hamilton County historian, John Wilson.  East Tennessee remains Chris and Elizabeth's favorite place, and they are glad to be back in the Tennessee Valley north of the river, ALMOST back to Tennessee.

CH Cairns with Tuskeegee Airman, LTC Robert Friend in 2014, at the 50th and Final Reunion of the 485th Bomb Group, which his grandfather, COL Douglas Cairns, commanded.  CH Cairns served as the keynote speaker during the event.