Booklet for the 60th Reunion Part II Memorial Service – Final
PDF of the Bulletin Linked Above
Structure of the Service Designed by MG (Ret.) Phillip Mallory;
Content of the service offered by CH (CPT p) Chris Cairns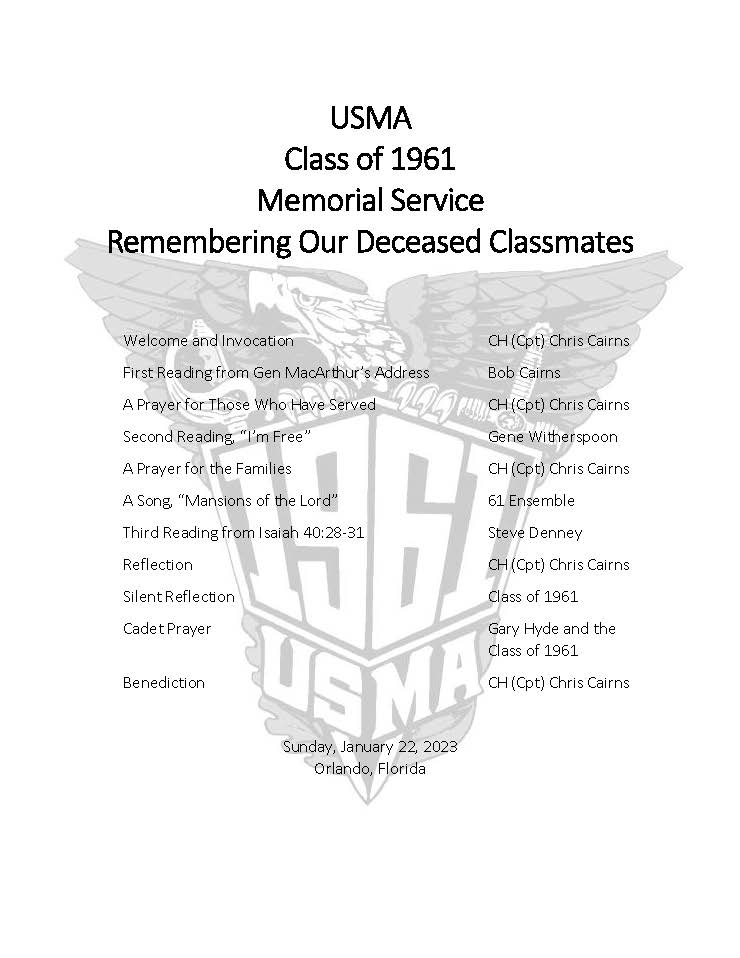 Welcome and Invocation
Ladies and Gentlemen it is my privilege to be here with you all in my official capacity as an Active Duty Army Chaplain on behalf of my Brigade Commander COL James Welch who loaned me out.  I happen to be the son of one of your classmates and the grandson and grand nephew of graduates of the classes of 1932 and 1933.  There has been 106 years of unbroken Active Duty service in our family, and even though I am just the non-combatant runt of my family litter, I swell with pride to be associated with the Long Gray Line as a member of the Class of 1991, albeit only plebe year due to an eye surgery, but also as a cousin to a member of the Class of 1987 and a nephew of one of my father's roommates who married my father's sister.  From my vantage, I must tell you that I hold you in such high regard, and I appreciate so much the privilege to have known some of you as long as I've had a memory, and that between the swelling with pride just to be here and the depth of my feeling for West Point, where I was born and went to elementary school.  I may not make it through this service without choking up, something I rarely do, even as an empath.  I hold you in such high esteem that it is something approaching awe.  I'll say more about why a bit later in the service, but if you would like to join me in prayer, let's ask God to bless our time together:
Gracious God our heavenly Father, we are not worthy to have been so profoundly blessed by your guarding and keeping of this class, both in this life, and in the next.  You did not have to levy yourself with time and space in history for each of us, and yet, in your generosity, and as a gift…. You did.  The immeasurable accomplishments in this room can only properly be understood in light of your delegation of gifts and capabilities, resources and character formed and forged in crucibles you prepared for us precisely to purify us from the dross that might otherwise have caused us to take the road too well traveled.  And yet, you have preserved us by your mighty hand and brought us in safety to this new day.  You have reminded us, some of us all too recently and all too well, that our lives are fragile, and you can take them back up just as easily as you have gifted us with them.  We recognize that we are not as strong as we once were in body or even soul, but in our spirit a fire still burns with the memories of those from whom we drew strength when they were our brothers and sisters here present.  It is for them we pause, to shine a spotlight on their beautiful faces in the Memorial room, and consider their contributions, to the end that we might be inspired to continue stewarding our time on earth to add to the legacy of this class as we run the portion of our race yet unfinished.  Give us the strength and resources we will need to bring you glory in so doing, calling to our remembrance, Lord, our dear friends lost to this world, to give us courage when we stagger, and would perhaps even prefer not to continue on.  It is in the Name of the One who was, and is, and is to come that we set aside this brief time for us to remember.  Amen.  And so, in the words of William Shakespeare:
If thou didst ever hold me in thy heart,
Absent thee from felicity awhile,
And in this harsh world draw thy breath in pain,
To tell my story.
As we honor our fallen classmates, let us think about what guided their lives in war and peace. The following are a few lines from Gen Douglas MacArthur's Farewell Address to the Corps in 1962 and help frame our thoughts.
Duty, Honor, Country
Read by Lieutenant Colonel (Ret.) Robert B. Cairns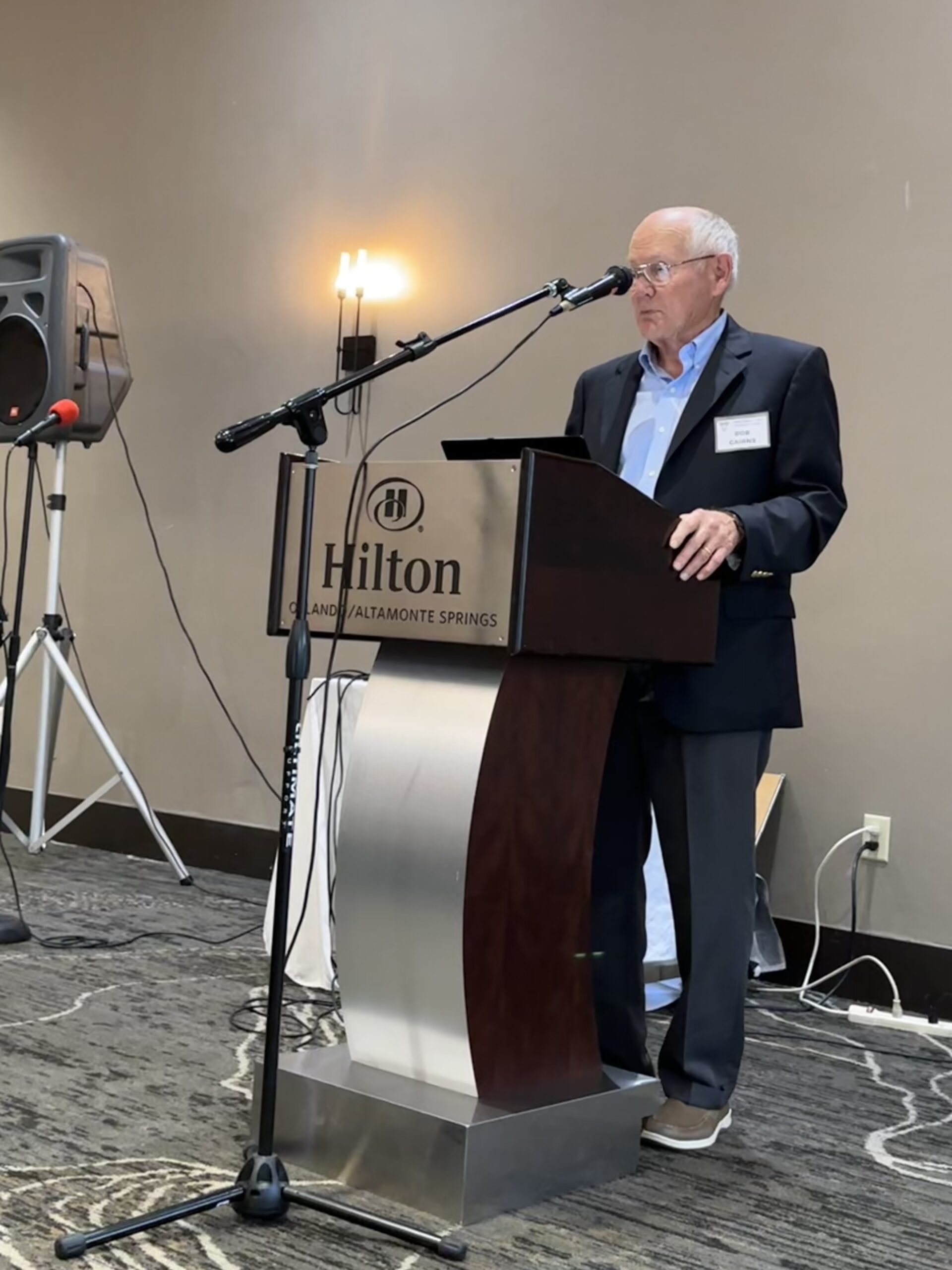 The code which those words perpetuate embraces the highest moral law and will stand the test of any ethics or philosophies ever promoted for the uplift of mankind. Its requirements are for the things that are right, and its restraints are from the things that are wrong. The soldier, above all other men, is required to practice the greatest act of religious training: sacrifice. In battle and in the face of danger and death, he disposes those divine attributes which his Maker gave when he created man in His own image. No physical courage and no brute instinct can take the place of the divine help which alone can sustain him. However hard the incidents of war may be, the soldier who is called upon to offer and to give his life for his country is the noblest development of mankind.
Gen MacArthur went on to say:
Your mission remains fixed, determined, inviolable. It is to win our wars.
Everything else in your professional career is but corollary to this vital dedication. All other public purposes, all other public projects, all other public needs, great or small, will find others for their accomplishment; but you are the ones who are trained to fight. Yours is the profession of arms, the will to win, the sure knowledge that in war there is no substitute for victory, that if you lose, the Nation will be destroyed, that the very obsession of your public service must be: Duty, Honor, Country.
Others will debate the controversial issues, national and international, which divide men's minds. But serene, calm, aloof, you stand as the Nation's war guardians, as its lifeguards from the raging tides of international conflict, as its gladiators in the arena of battle. For a century and a half you have defended, guarded, and protected its hallowed traditions of liberty and freedom, of right and justice.
Let civilian voices argue the merits or demerits of our processes of government: whether our strength is being sapped by deficit financing indulged in too long, by federal paternalism grown too mighty, by power groups grown too arrogant, by politics grown too corrupt, by crime grown too rampant, by morals grown too low, by taxes grown too high, by extremists grown too violent; whether our personal liberties are as firm and complete as they should be; these great national problems are not for your professional participation or military solution. Your guidepost stands out like a tenfold beacon in the night: Duty, Honor, Country.
You are the leaven which binds together the entire fabric of our national system of defense. From your ranks come the great captains who hold the Nation's destiny in their hands the moment the war tocsin sounds.
The Long Gray Line has never failed us. Were you to do so, a million ghosts in olive drab, in brown khaki, in blue and gray, would rise from their white crosses, thundering those magic words: Duty, Honor, Country.
This does not mean that you are warmongers. On the contrary, the soldier above all other people prays for peace, for he must suffer and bear the deepest wounds and scars of war. But always in our ears ring the ominous words of Plato, that wisest of all philosophers: "Only the dead have seen the end of war."
​
The shadows are lengthening for me. The twilight is here. My days of old have vanished — tone and tint. They have gone glimmering through the dreams of things that were. Their memory is one of wondrous beauty, watered by tears and coaxed and caressed by the smiles of yesterday. I listen then, but with thirsty ear, for the witching melody of faint bugles blowing reveille, of far drums beating the long roll. In my dreams I hear again the crash of guns, the rattle of musketry, the strange, mournful mutter of the battlefield. But in the evening of my memory always I come back to West Point. Always there echoes and re-echoes: Duty, Honor, Country.
A Prayer for those Who Have Served

All who see the West Point Class of 1961 shall acknowledge them, that they are an offspring the Lord has blessed.  Lord God, heavenly King, we have been sometimes unwittingly but also sometimes wittingly a part of the cosmic battle between good and evil, and I thank you that I have stood at the shoulder here of warriors in your ways, shoulder to shoulder with those sheepdogs who are committed to protecting the innocent, and who give no quarter, appeasement, or accommodation for your enemies or the ways and means of evil.  I thank you that these men of sacrificial service to their God and to our Country has more often than not trumped their personal preferences, but they have expended their lives in sacrificial service to others, inside and outside the Army, to preserve the National and international communal peace.  The paradox of peace-loving warriors is not so complex that it cannot be understood, and we have a visual aid, Lord, in those in this room who have served, They are points of reference for us as they are those who have done their duty, who have been a light in the darkness, liberators of captives, even to those who might have been captive solely to their own self-focus had it not been for the example of the Class of 1961.  We thank you for the legacy of service among their children and their children's children, and we remember those who are already gone who have passed the torch, giving the baton of freedom's stewardship to the next generation, as the mantle of responsibility shifts from their shoulders in this fragile cultural situation and moment.  Inspire their offspring to be those who can be acknowledged publicly, as Scripture has done in generations past, that they too are offspring whom the Lord has blessed.  Raise up a never-ending succession of those who know that because freedom isn't free, it is a cost that must be paid by someone, and that they would step forward knowing they are descendants of members of the Long Gray Line, progeny of the products of America's leadership factory.  May the descendants of our honored graduate know it is our duty to take up the risk, the cost, and the rebuilding should history's gravest mistakes again rear their ugly head and repeat.  Thank you for those who have remained faithful to sacrificial service to the end, even to the last full measure.  Amen.
2nd Reading:
Read by Brigadier General (Ret.) Gene Witherspoon
I'm Free
by Shannon Lee Moseley
Don't grieve for me, for now I'm free.
I'm following the path God has chosen for me.
I took His hand when I heard Him call;
I turned my back and left it all.
I could not stay another day,
to laugh, to love, to work or play.
Tasks left undone must stay that way;
I've found now peace at the end of the day.
If my parting has left a void,
then fill it with remembered joys.
A friendship shared, a laugh, a kiss;
Oh yes, these things, I too will l miss.
Be not burdened with times of sorrow,
look for the sunshine of tomorrow.
My life's been full, I savored much;
good friends, good times, a loved ones touch.
Perhaps my time seems all too brief;
don't lengthen your time with undue grief.
Lift up your heart and peace to thee,
God wanted me now – He set me free.
A Prayer for Families
Lord we acknowledge that you love those who serve behind the scenes, with scarcity of review, evaluation, accolades, or sometimes even an audience for their accomplishments.  We know that you see them.  The service of spouses in American history who catalyzed the vital strength and wisdom of those whose service they supported cannot be adequately measured in its position as a critical key to all successful missions and victories.  The military family has laid on the altar of freedom so costly a sacrifice that it can never be repaid; but you see them, Lord, and you reward them openly for all of their behind the scenes kindnesses, generosities, hospitalities, and courage lent to those whom they supported when courage seemed to fail.  These behind the scenes heroes are our rallying points, truth be told, the spouses and children who give us our greatest sense of home and what we defend, and without their support and encouragement when we were in the throes of self-doubt, we would not have risen to levels far beyond our own capabilities or capacities without them.  It is with awe and gratitude to you for them, that we pause and we thank them, whether they are still with us or they have passed.  We thank you for the friendships among us that sustain us even as widows and widowers.  Help us not, dear Lord, to succumb to a depth of grief from our love lost that we cannot recover, but give us the grace to draw strength from their memory for our own journey ahead, that we might finish the race yet before us with honor and integrity, for the glory of your Name.  Amen.
Mansions of the Lord, Performed by Members of the West Point Glee Club from the West Point Class of 1961 (click on title or picture to hear their performance):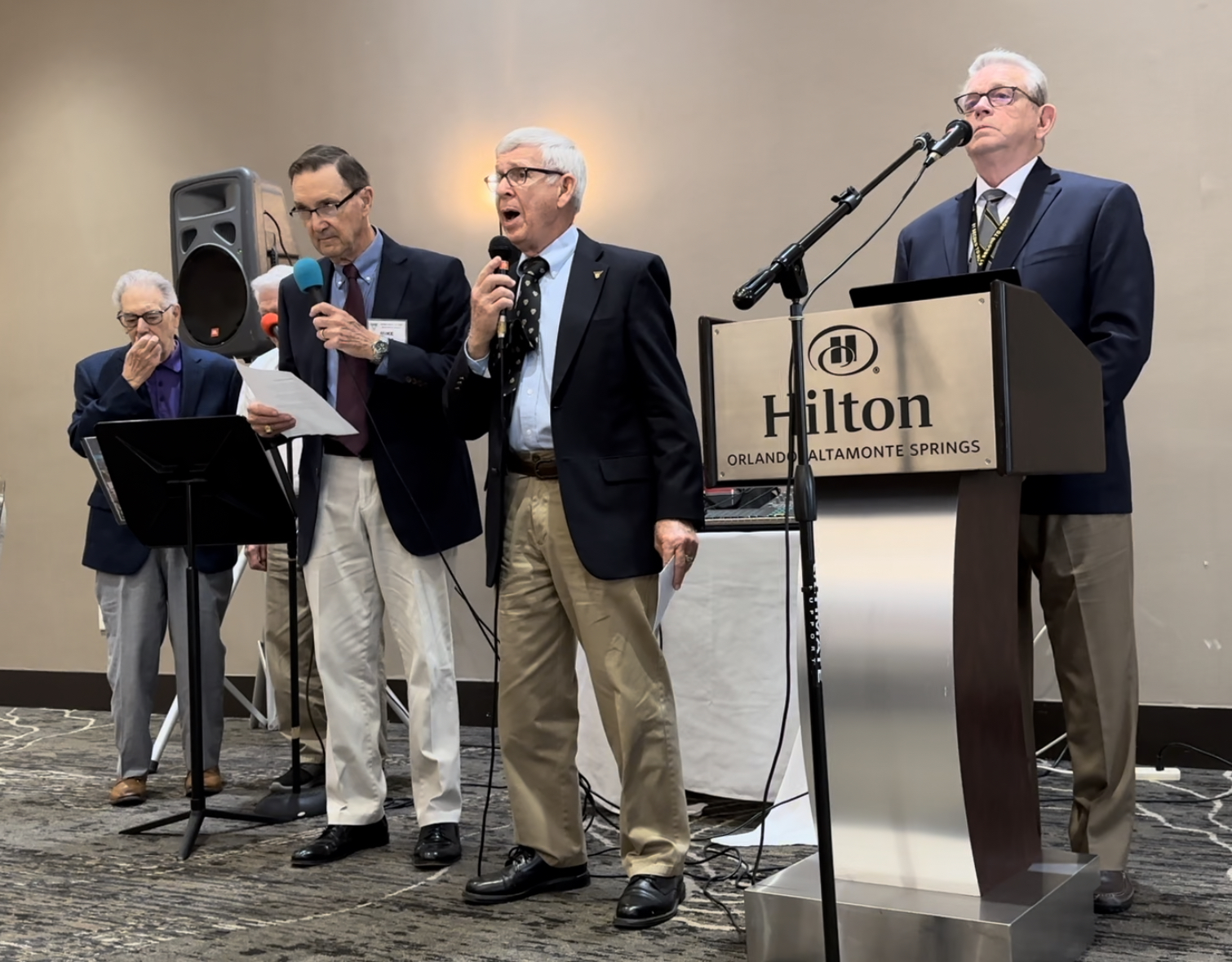 To fallen soldiers let us sing
Where no rockets fly nor bullets wing Our broken brothers let us bring To the mansions of the Lord
No more bleeding, no more fight
No prayers pleading through the night Just divine embrace, eternal light In the mansions of the lord
Where no mothers cry
And no children weep We shall stand and guard through the angels sleep While through the ages safely keep The mansions of the lord
3rd Reading
Read by Colonel (Ret.) Steve Denney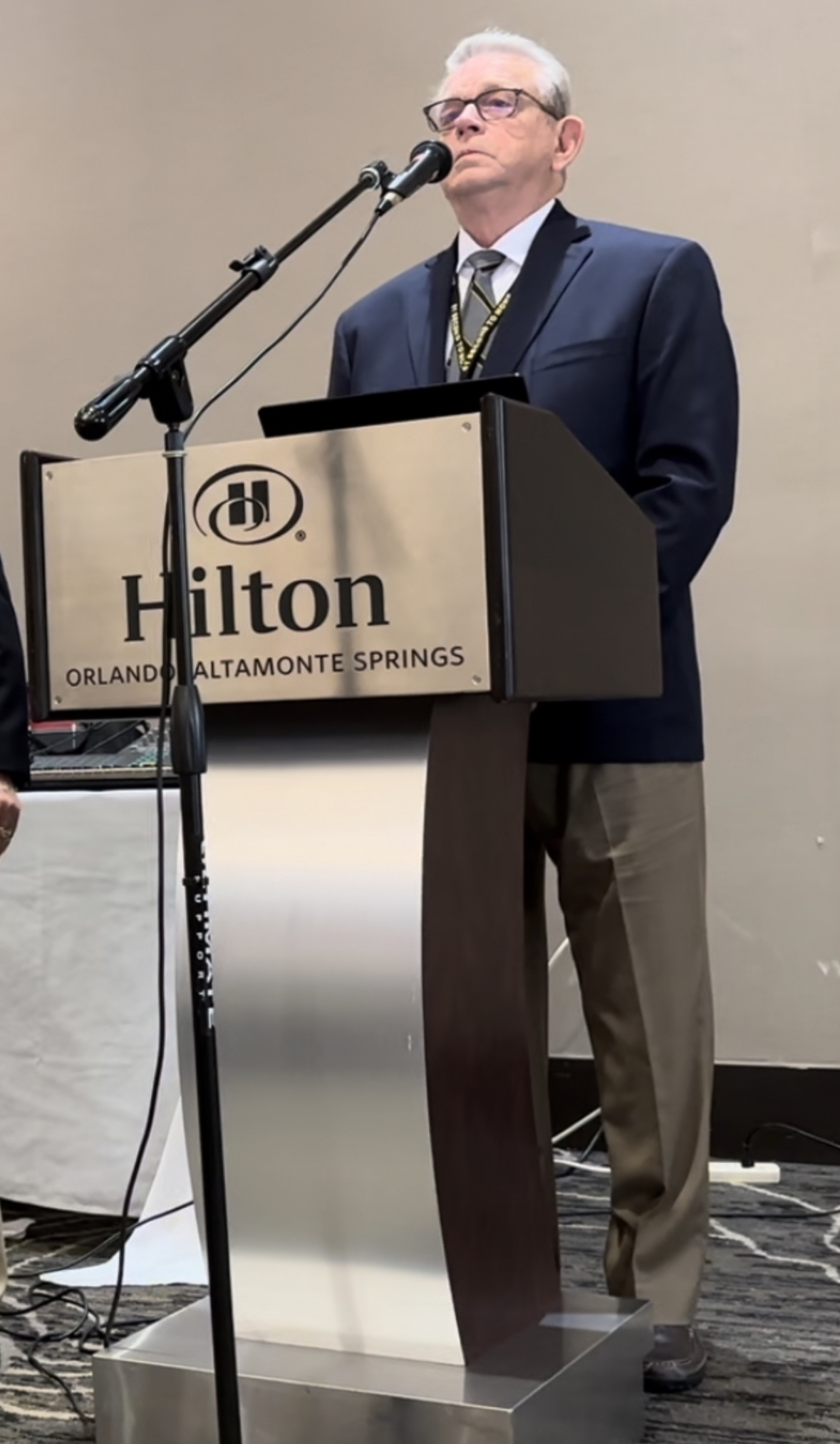 Isaiah 40:28-31
New International Version
28 Do you not know?
    Have you not heard?
The Lord is the everlasting God,
    the Creator of the ends of the earth.
He will not grow tired or weary,
    and his understanding no one can fathom.
29 He gives strength to the weary
    and increases the power of the weak.
30 Even youths grow tired and weary,
    and young men stumble and fall;
31 but those who hope in the Lord
    will renew their strength.
They will soar on wings like eagles;
    they will run and not grow weary,
    they will walk and not be faint.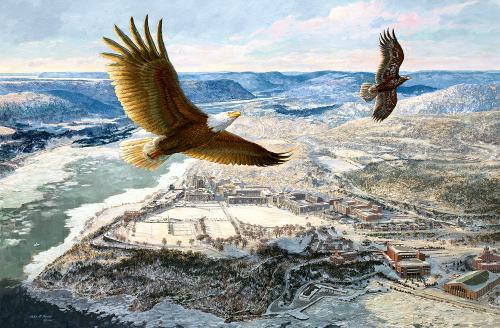 Chaplain Cairns' Remarks:
The West Point Museum has just acquired a wonderful painting by Ben Maile, done in 1989, called the Long Gray Line, prints of which are often available for sale just outside the Post Exchange at Redstone Arsenal where I have been stationed for the last three and a half years. I desperately would like to buy one and have it framed, but I've already bought iconic prints of two of my father's duty stations from growing up as an Army brat: one of the West Point plain, where I myself spent a dreary year as a plebe; and one of Fort Benning, where our quarters on Lumpkin Road were in view of the towers, we went to church in the Main Post—now the historic—Chapel, and the Old Infantry School then the School of the Americas where my father served are in a triptych.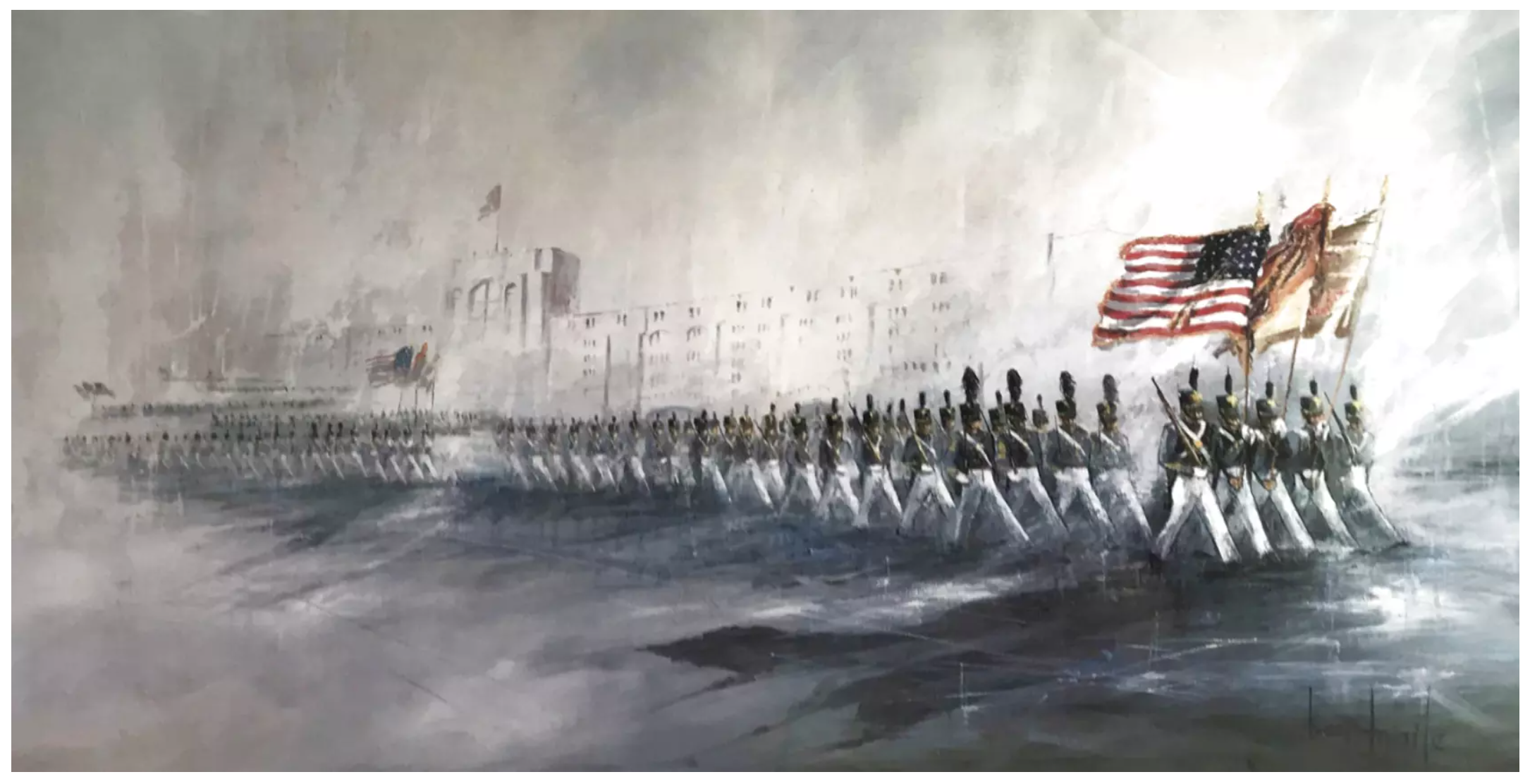 What I love about Ben Maile's painting, "the Long Gray Line" is that the colors at the front are unfaded, as are the cadets at the front, but as the long gray line stretches, it begins to fade away into gray, just as the words say of both the Long Gray Line and as MacArthur said of Old Soldiers. It is a visual symbol of the strength of the Nation, a backbone delivered by those who have lived Duty, Honor, Country not has hollow words, but as a hallowed way of life that must be stewarded by those of each generation. As I've pointed out to my Soldiers many times, the Army values cannot be mere words on a poster with definitions emblazoned on the walls of a Company Area…. They are rather the atmospheric conditions of an intentionally cultivated ecosystem that grows and forms leaders in knowledge, stature, and wisdom so that it is the very air that they breathe and the water that they swim in.
Many who are uninformed about history may not know just how precarious our Nation's trajectory has been throughout its history, and the values of our Officer Corps were once on the brink of losing their way, very early on in its history, had it not been for…. you guessed it…. a Chaplain in the 1820s named Charles Pettite McIlvaine. The early Association of Graduates had him thrown out after only three years because he was turning West Point, as they said, "into a hotbed of religious fervor." And yet, he had already done his dastardly damage to their preoccupation with what they then thought were their more modern sensibilities of the Enlightenment; they thought they were saving the Officer Corps FROM those old traditions of society governed by Jewish, Christian, and Catholic moral moorings. It was when science would be unfettered from faith that the REAL progress would start, they believed. But with only three years of margin, Chaplain McIlvaine—later to become a bishop in my denomination—had so influenced the Officer Corps, that the values of the standard Officer and gentleman would be synonymous with the values laid out in the Scriptures: the strong were for the protection of the weak, and that God would be on the side of those who made the least, the last, and the lost, the widow, the orphan, and the stranger…. their very mission in life. McIlvaine stepped in and reasserted the values of tradition, with one of his cadets becoming West Point's Chaplain ten years later, influencing the next generation, and on it went to include even a Civil War general baptizing another Civil War general.
Fast-forward 130 some odd years to when you gentlemen were going through your cadet days. You still had the Thayer system of education, and that was known to you. What may have been less known to you is that the standard for gentleman which had become the cultural backbone of the whole Nation had remained unchanged until the cultural upheaval that was to come. There are some now who would want us to capitulate, surrender, accommodate the rising tide of do-as-you-please, benefit yourselves first culture. They say that life is about  you getting yours in this life, your best life now, and as the Chaplain to the Army Recruiters in the Southeastern United States for the last few years, I can tell you and my top NCOs will tell you, that we are receiving a very different cultural product from the average American family than we received in the 1950s.
I have listened to the Old Grads of many generations of West Point speak to all of these issues, many shaking their heads, and asking how could we be where we are today? Still others wonder, what are we to do to recover our culture, our body politic, our Nation from the brink?
Well, it's simple, but not simplistic, and you know the truth of it, as the rallying points have not changed: duty, honor, country. Self-sacrifice. These are honored by all major faiths, but cultures that lack faith seem not to be able to cultivate whole crops of leaders for their nations who are willing to sacrifice themselves on the altar of the national mission when they have no inspiration to do so. For the Jew, the inspiration might be previous generations of the faithful chosen. For the Catholic, it might be the Communion of Saints. For the Protestant, it might be the author and perfecter of our faith who sacrificed Himself. The more we loose ourselves from these foundational moorings of our culture, the more difficult the storms brewing in the national and international arena seem to us to be. As single human beings, in a sea of 8 billion others, we might simply sigh, throw up our hands, and say "what can one person do?" Whenever I encounter Chaplains who have come to the end of their rope, and in their burnout and frustration with all that is affecting Soldiers these days, they sound hopeless, and they ask, "when we only have three years in one place, what can be done?" And I point them to the tenure of Charles McIlvaine as the Chaplain at West Point.
God has not left the answers to these questions so high and lofty that we may not obtain them! Rather, God has brought them low and given the answers to us as gifts of His grace, offering us power from on high from beyond the edge of ourselves to attain them if we will just be obedient! He has told you, oh man, what is required of you: to do justice, to love mercy, and to walk humbly with God, your Creator, who has lavished time and space, a body and soul, and your tenure in Creation to steward, with delegated autonomy and authority over so very much. And we have not always been the best of stewards. Sometimes we have been self-seeking, instead of others-serving. Sometimes we have been inwardly focused when we need to be outwardly focused. The great news of redemption is that it is never too late to begin; it is never too late to redevelop those muscles of a spiritual nature. The great news of redemption is that it is never too late to begin; it is never too late to redevelop those muscles of spiritual fitness, that we might be an encouragement to others who have faltered in running their race. We may always invest in the next generation, and to that end, I implore you all to tell your stories to your grandchildren and nieces and nephews and great grandchildren and grand nieces and nephews. If you are from an historic unit, reconnect with the Commander there, and offer to come to a military ball, to be a point of reference for what right looks like in this American experiment. Some of you may think you don't have much to offer. What can some rickety old guy or gal do with three, six, nine or more years? Your mere caring presence showing up. You have no idea how much you inspire those around you, how a word of encouragement by someone of your stature for the up and coming can alter the trajectory of another's life. The aggregate experience and wisdom of this room is enough to change the course of the country if we could bottle it and give it away in quarters where it would be treasured and valued and oft repeated forever.
Never lose heart. Never lose hope. Never give up. Let us all fight the good fight and finish the race before us, and keep the faith, just as those who have gone before us have done in the cause of liberty and justice for all. The Nation may be faltering in its definition of liberty, but we still are that beacon, but it is only because we have had a backbone as solid as the long gray line for nearly our whole national history, full of men and women, and spouses and children, who have adopted the posture of the humble servants of the Nation. Vietnam era veterans are the last of the iconic generations of our Nation's warriors, and when it is your time, I will hate to see you go. Your gift to a Nation that didn't appreciate it at the time, not unlike the gift of our African American servicemembers for so many generations, cannot be repaid. It cannot be earned. It can only be adopted as an operating style, cultivated intentionally as a culture, and be paid forward. Your legacy of investment in others will go on and on for generations to come. May God bless the America that you and yours have preserved, and may generations after you remember and reassert your sacrifice. Amen.
Let us remember in silent reflection those who have transitioned to life's greatest adventure. Those who have their names underlined are those who have died since the 55th Reunion of the Class of 1961: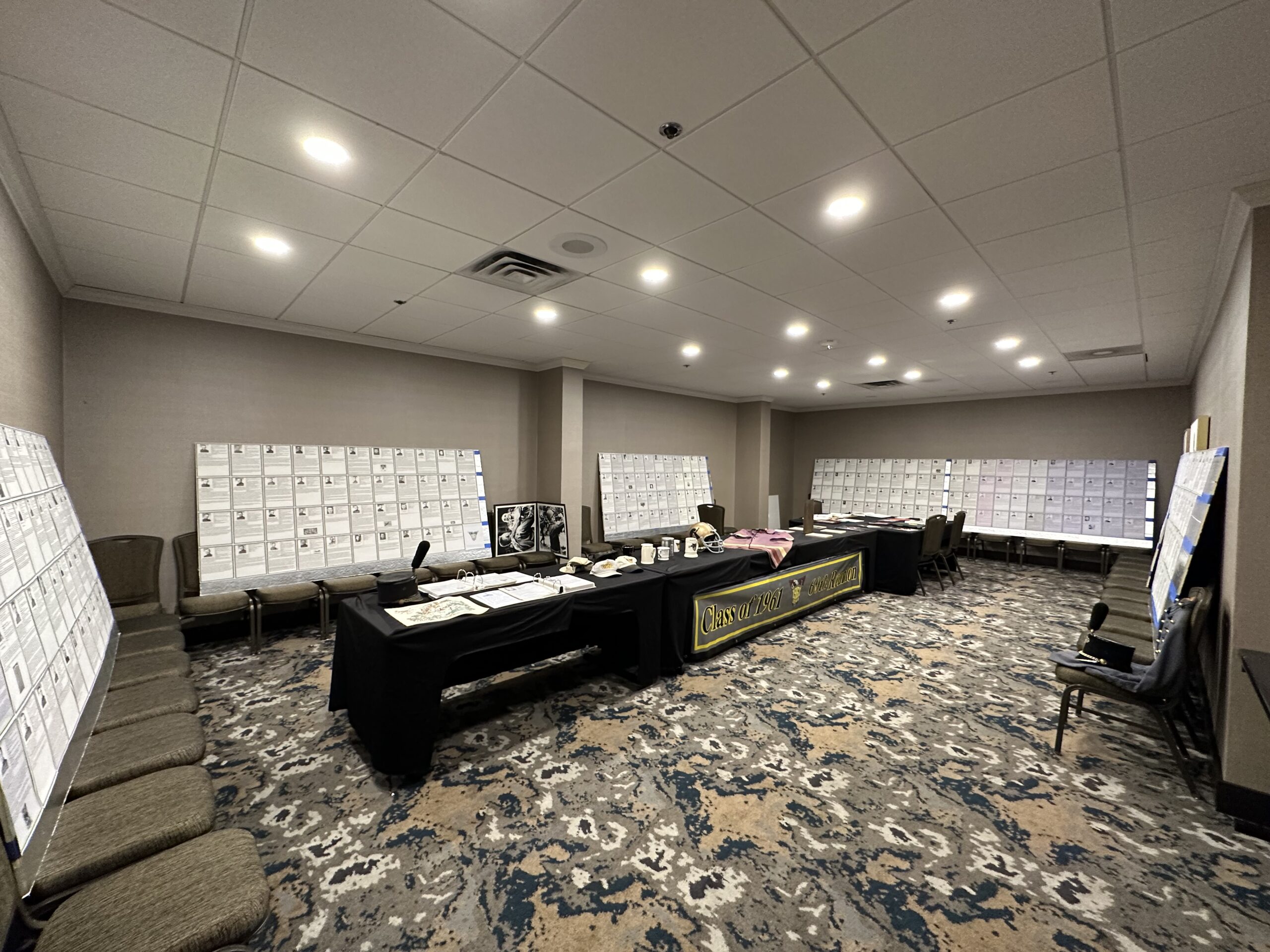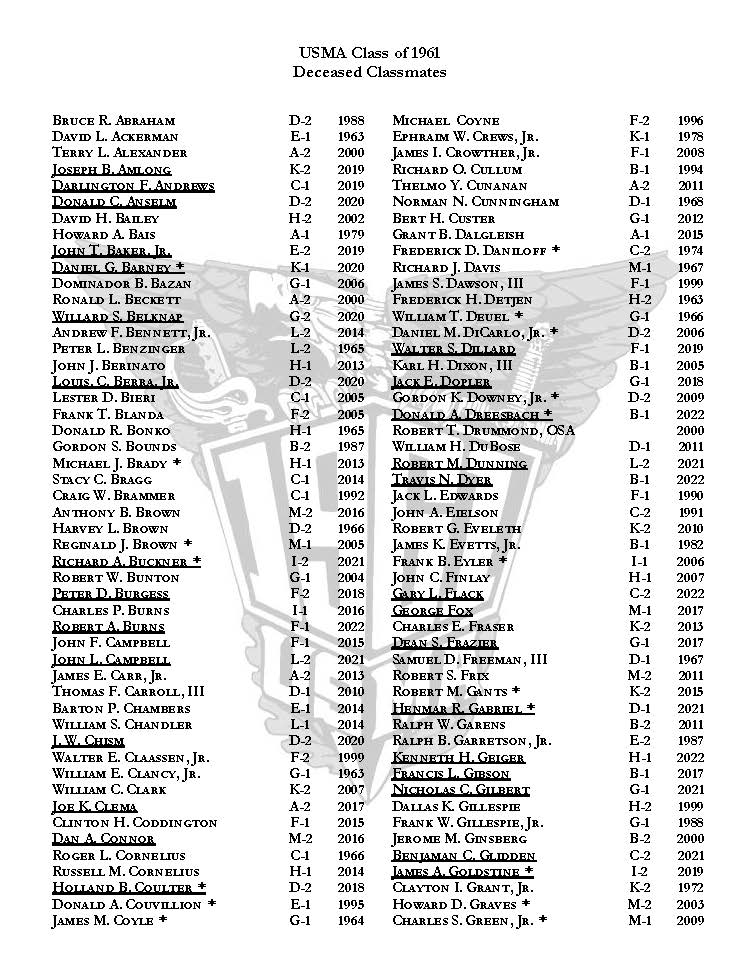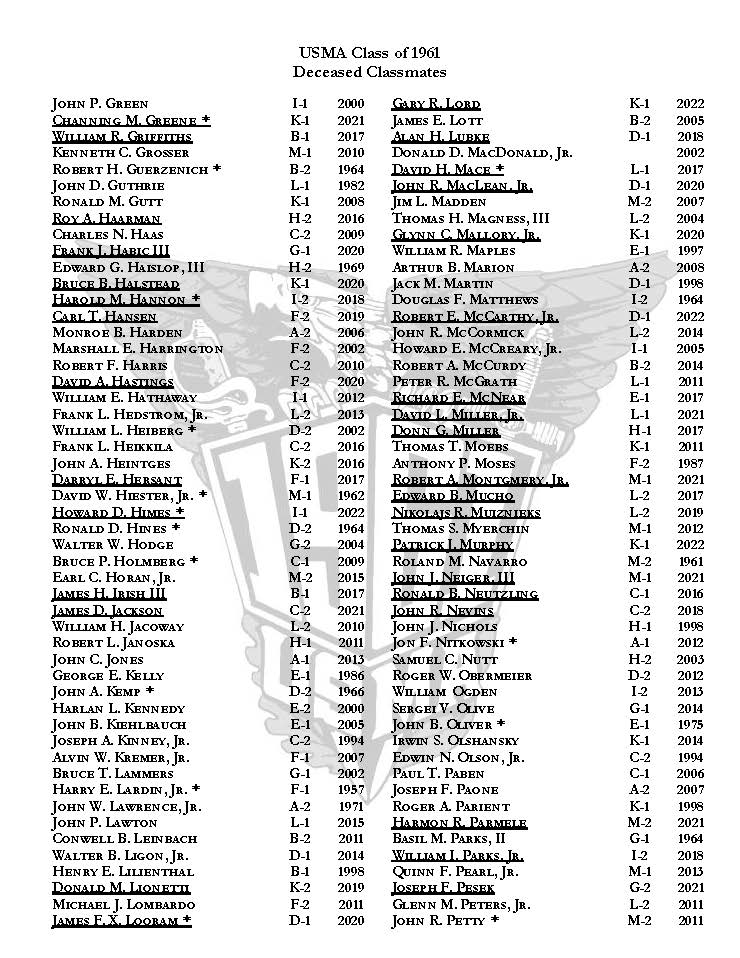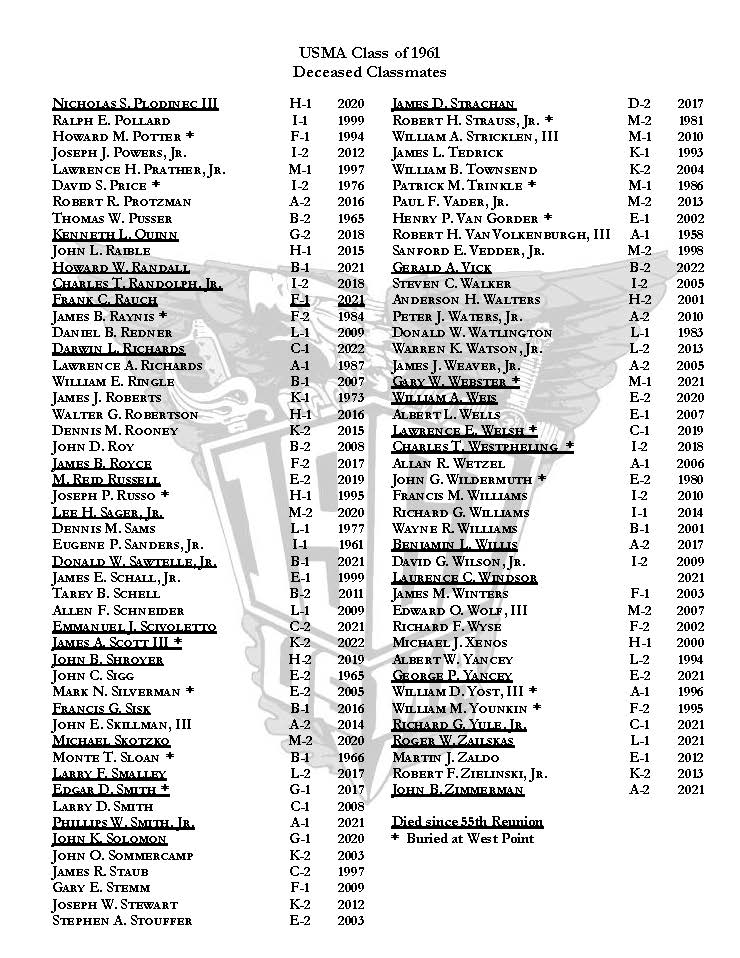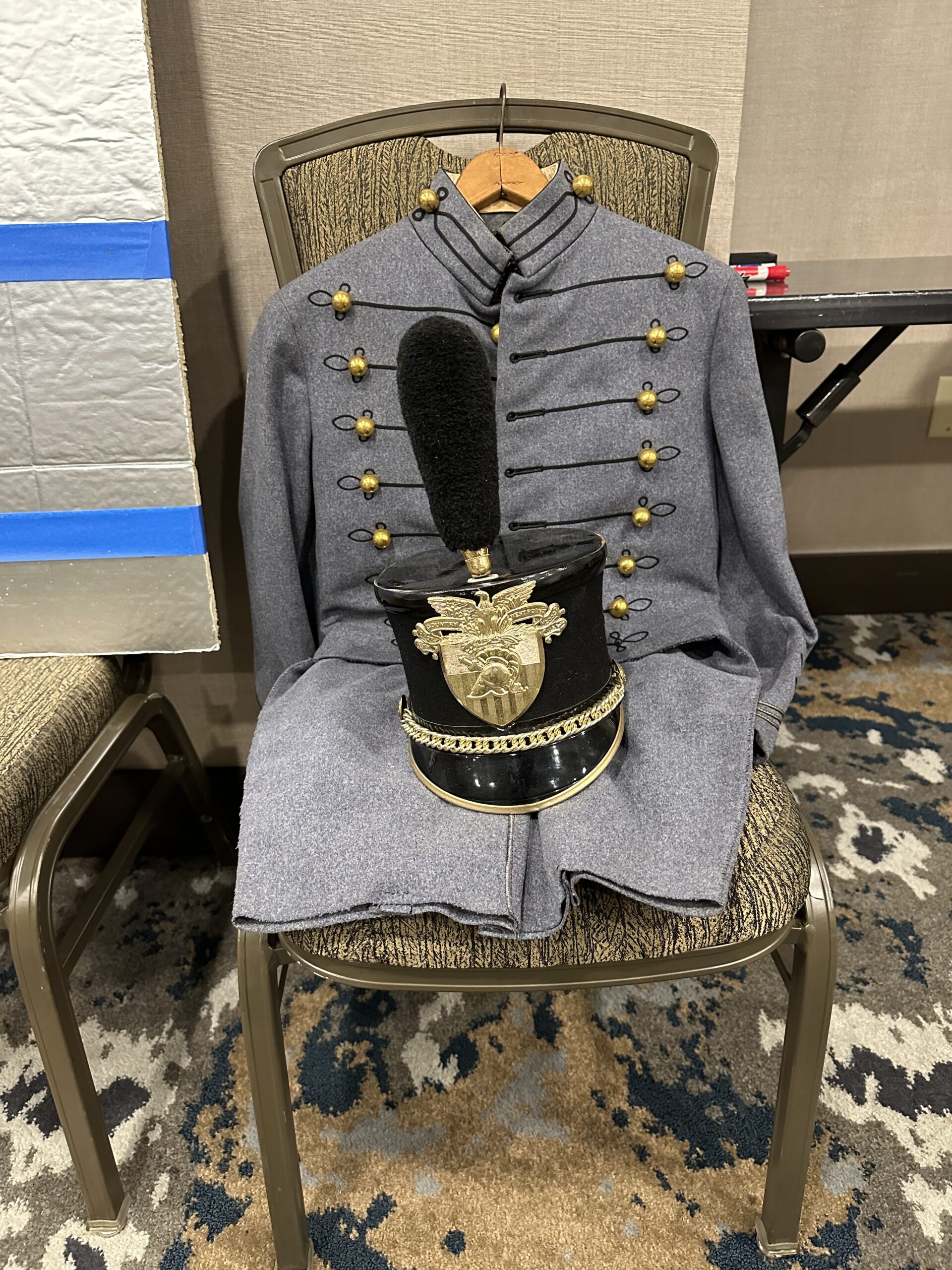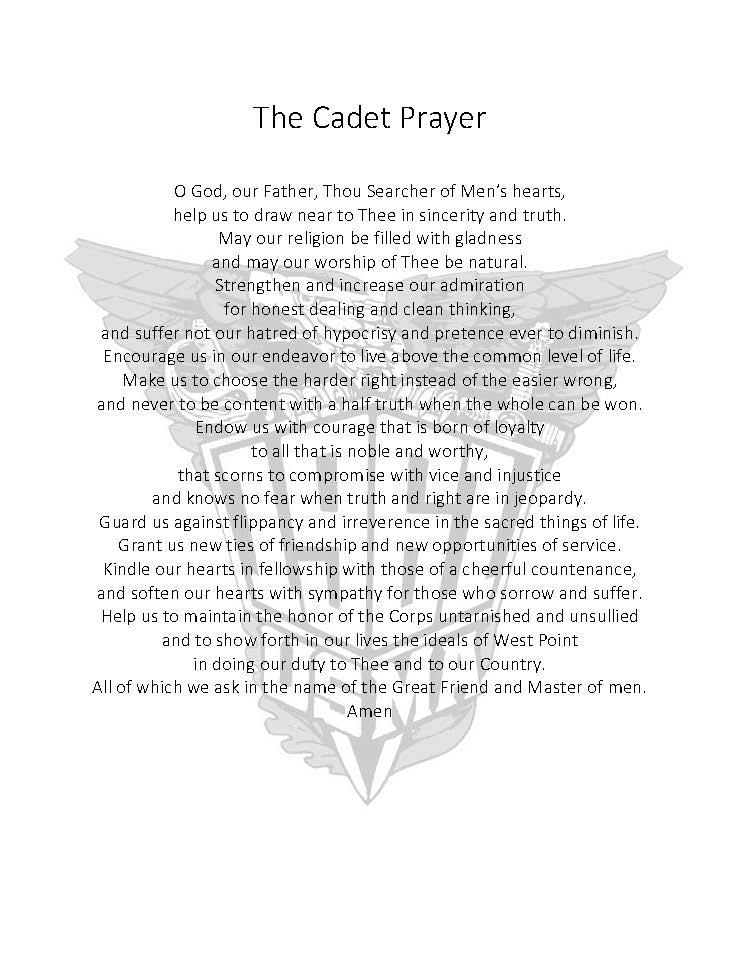 Benediction:
Gracious God, almighty and everliving Father, you have given us much to steward as those who remember the deeds of the mighty in our generation.  As one generation hands the mantle to the next, may we trust in you with our beautiful ones yet living, that we will not be forgotten, but that you will recall to their remembrance the love sacrificially lost so that others through the sacrifice might gain.  Give us the grace to go from here with renewed strength for having paused to remember, to linger with the memory of our friends, to smile as we think of the laughter of gathering with them at reunions.  May the beauty of there lives renew us in ours.  And when we are in need, when the tide of grief would overtake us, send another of our number as your servant, to sit with us and help us once again recall why the beauty and its defense matters so much.  May the Lord bless and keep you, may the Lord make His face to shine on you and be gracious unto you; may He lift up the light of His countenance upon you this day, and forevermore.  Go in peace to love and serve.  Let it be so.  Amen.